Since initial shutdown due to COVID in March 2020, Community Plus+ has prepared and delivered over 10,000 hot and cold meals for members of West End, Yeronga and Annerley communities facing food insecurity and loneliness as a result of the pandemic.

Physical distancing, not social distancing
COVID lockdown and the aftermath has meant greater loneliness for those who found themselves distanced from family members and friends and the important connections made within the community. People became unemployed for the first time, international students with little or no access to support, people living in boarding houses and elderly community members unable to leave their place of residence have also experienced food insecurity.
From the outset, we chose not to refer to protective measures as 'social distancing' but as 'physical distancing', finding new ways within the reality of physical distancing to ensure meaningful social connections carry on blooming within our community.
While Annerley community activities and our West End Community Centre and Yeronga Community Centre Open House programs had to go on pause during lockdown, we listened and responded to the needs of our community and focused on providing much needed social connection in a variety of ways as well as referrals to other services, and food relief for vulnerable people in our neighbourhoods.
"[Community Plus+] have become my main way to socialise and stay connected…It's tremendous that the centre has been able to keep running with the pandemic. Even though people can't come inside, we can still get a meal when we need."

Mary, Yeronga Community Centre community member.
10,000 meals made from scratch!
Part of our response during COVID-19 has been to make sure that everyone in our community has had access to delicious, nutritious, varied meals as well as the dry food and care items available in our 24/7 community pantries.
Activating the Yeronga Community Kitchen as our main area of support, the Food with Thought program produced an incredible 10,000 hot and cold meals every day over the Pandemic period to distribute to our community in Yeronga, Annerley and West End.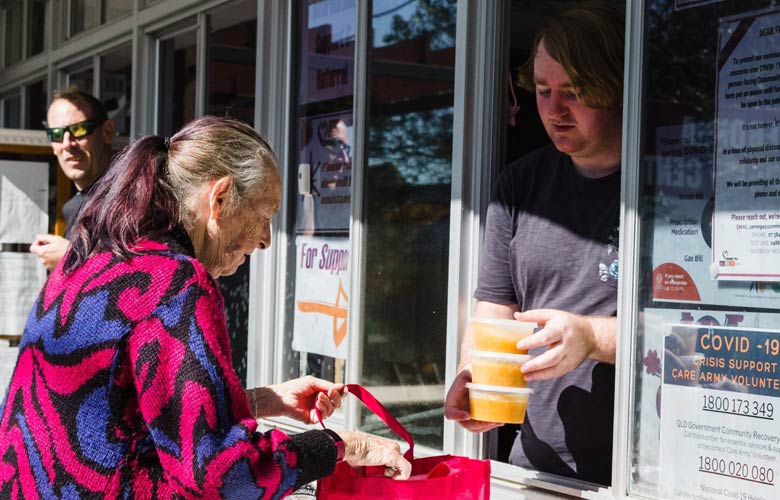 For many, picking up one of these meals (or having them delivered during the early peak period of lockdown) was the only time to have a chat with another person that day.
We have heard from our community:  that because of access to Community Plus+ meals, they were able to take their daily medications providing a very positive effect on physical and mental wellbeing and the check-ins that came with the food brightened their day.
People suddenly facing a difficult financial reality have been able to continue eating healthy, balanced and tasty food. We believe that everyone should have the opportunity to enjoy a high standard of food, made with quality ingredients – delicious food that you would happily enjoy in any good café. We don't want our community to have 'good enough' we want our community to have the best.
What's Cooking?
And for us the best is truly gourmet! As well as our signature fresh salad rolls made daily using bread donated by Bakers Delight, people in our community have been able to travel across the globe enjoying homemade meals created using ingredients provided or donated by members of the community, Feed Appeal, Oz Harvest and Foodbank.
Tasty offerings have included; Tuscan chicken, Thai beef curry, dahl, quiche Lorraine, mushroom ravioli, and sweet and sour pork…to name just a few! It's the desserts that have proved the most popular though, with our community of sweet teeth coming back for more plum and apple crumble with custard, banana and caramel dumplings, raspberry and mango swirl and passionfruit pavlova!
"The neighbours say they love any of the dishes provided. One neighbour kept raving about the lasagne – he kept badgering me to ask about it!!! The other neighbour loved the desserts – apple crumble and custard."
Mike, West End Community House community member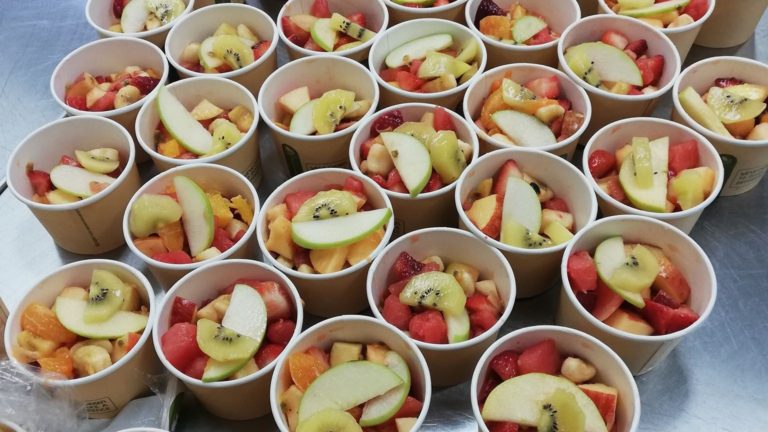 As well as providing free meals for vulnerable people in our community, we also saw the opportunity to do what we do best; bring people together. During the COVID lockdown we introduced the Community Plus+ Cook-A-Long!
For just $5, anyone can pick up a recipe pack that includes all or most of the ingredients for one of the dishes made by the Food with Thought Program, cook it at home and join our 'virtual table'. The idea that people from across all sections of our community can enjoy the same dishes has reinforced our intention of maintaining connection across our community even in times of physical distance.
What's next on the menu?
As we prepare to welcome community back 'in house' to our beloved community centres following COVID lockdown, we will continue to make fresh salad rolls and dry food packs every day, as well as utilising the Food with Thought program at our Yeronga Community Kitchen to support the distribution of fresh meals at Community Plus+ neighbourhood centres; West End Community House and Yeronga Community Centre on Mondays and Wednesdays.
We are so proud of our community and all that we have achieved together during COVID-19. What can you do to help us make an impact? Every contribution brings us closer to community. You can continue to support us by popping something in one of our community pantries, joining in with our $5 Cook-A-Long, or making a valued monetary donation to purchase ingredients to make meals for your community.